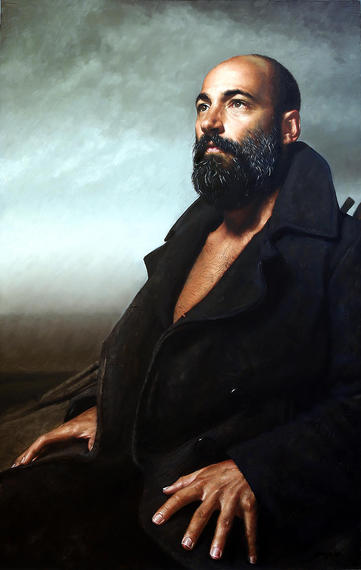 Self Portrait "Brave New World," oil on board, 15"X24," 2015
I walked into a charity event for "We Dream the Cure" aptly titled "The Naughty Auction" back in the fall of 2008 without expecting to buy a piece of art or make a friend... both happened. The event was to be a burlesque night with sexy acrobats and an auction that included pieces that were to evoke a feeling of sexual tension. I walked past the Herb Ritts' photos of Madonna and towards the back of a narrow hallway to see a realist painting of a hiker on a rock dropping his pants in a gesture to say "fuck the world." Of course because there was a bare ass, this piece fit the theme of the night, what spoke to me was that this captured moment could have been me. A feeling of rebellion but yet entirely all American came over me as this painting celebrated the natural beauty of being outdoors with friends and leaving all the trappings of the modern world behind. Remember this is 2008 and we had just experienced a financial crisis that had people withdrawing cash from ATM's and the last thing people were doing was throwing down cards at a charity auction for a relatively unknown artist.
The event hall was dark as the auction began and only the safe, investment pieces were garnering attention. "Johnny Messiah" by Victor Grasso came to the block and I became a bit fidgety. My partner at the time whispered in my ear "don't you dare" but as the auctioneer began the final countdown of passing on this piece of art, I threw up my hand right between "going twice... going three times!" Confidently sinking back into my chair there were a few pats on the back from other attendees and one of those gasps from my partner that said "Damn you but that's also why I love you." The night was closing as we settled up with the cashier and the thing was bigger than it appeared so it took the both of us cautiously moving through the crowd to get the sucker home. Before hitting the exit, one of the organizers told me the artist was in attendance and would I like to meet him? I was introduced to Victor and kind of taken aback initially by great style but also his youth and handsome dude appeal. He was not the friendliest of characters and explained to me that if I had buyer's remorse that he would be happy to buy the piece back. That was all it took to make my partner suddenly feel excited about our purchase and we rushed home to find the perfect place to hang it.
Over the course of a week, when passing through the living room, I thought about Grasso and the feelings he must have had to watch something he had emotionally created to walk away in the hands of a couple of tipsy New York, East Village living hipsters. Through mutual friends, I got his contact details and sent him an email with an attached picture of where his work was living and assured him that it was loved. A few emails exchanged and we became friends; he invited me to a show he had in NYC and I invited him to a fashion show. Now I not only owned a piece of art that hung on my wall but gained a cool buddy who lived in that strange artist world that has always intrigued me. Years have passed, watching him become an even greater artist and adoring father but I still have more questions to be answered...
EP--For those who do not know you, can you give a quick breakdown of how you became an artist?
VG--I suppose I've always been an artist. The earliest drawing I have is from when I was two -- it's a human looking thing sitting in a chair over another human looking thing in a cage. Growing up my dream was to be a comic book artist. I drew characters and super heroes all day and I idolized the comic artists of the nineties. But things changed when my sixth grade art teacher asked me "What are you interested in?" My response was "Death and Animals." The next day she came in with a torn out page of an art book with Peter Paul Rubens' "Prometheus Bound" on it. I was blown away by that painting -- it never left me. But it was another seven years before I picked up a paintbrush, after I graduated high school. Instead of college I acquired a job painting for a mural company in Atlantic City with a portfolio full of drawings of monsters and goats. Within two years I started taking on commissions of my own and painted every day for four years. But commission work was not for me. So, every free chance I had I was working on my personal work. In 2007 I curated an exhibition of my work in my home town of Cape May, NJ in a giant church that was converted into luxury condos. I think I sold one painting but the turnout was huge. That same year a gallery opened in Cape May and asked if I would show. My first show was lackluster but my second show, in 2008, was really successful and since then I have been able to focus on my work and show throughout the country.

"Johnny Messiah," oil on linen, 22"X28," 2009
EP--When I first posted "Johnny Messiah" to my social media it was rejected because it was perceived as a nude photo... why do you work in realism?
VG--I trust my instincts and realism is the way I tell my story. If there is something I have to say or a message I'm trying to convey, it may not be what most people want to see or even think about. I relate to the inner struggle of the anti-hero. So my paintings tend to have a dark or quirky overtone. Realism roots the image down so people can relate to it, something familiar. I love painting the female form, which I think lends a universal appeal to the work. There is also a challenging aspect in manipulating oil paint to create flesh and facial features. This speaks to my curiosity of what color does and how to apply it in different strokes and try new techniques. I find painting to be a constant learning and searching experience. To me, it's the great unknown.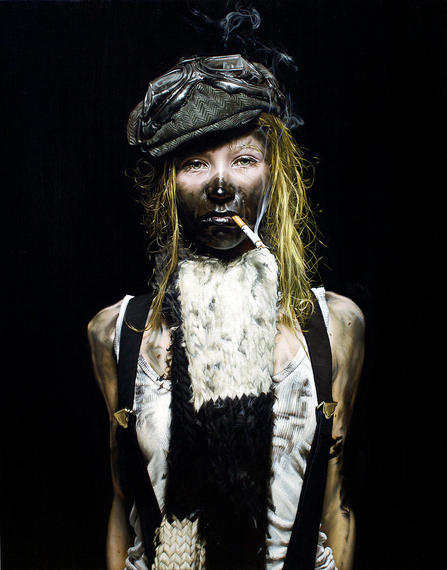 "Hades," oil on linen, 28"X36," 2013
EP--Say something about how it feels to create something and sell it. Do you know where all your pieces live?
VG--I don't know where all my pieces live, though it would be nice to see some of them again. As far as the experience of creation, man, it goes from wading through mud to walking on water. I don't feel I ever have a lack of ideas or some kind of artist block. I have so many things I want to paint and so many stories to tell -- it may be I don't have enough time to get to them all. The struggle for me is the self doubt, worrying about whether the palette is blending or if the strokes are meaningful. I'm a detail freak and I struggle with simplifying what I'm painting and that leads to over-thinking, which is deadly and leads to scraping off twelve hours of work. It's like anything; when you're in the pocket, it's amazing, and I wouldn't want to be anywhere else than in front of my easel. Most pieces go through this beginning process of good and bad -- so in the end there is a huge sense of accomplishment but also a draining feeling of "can I do that again." So the euphoria comes and goes. It's a big deal in this life to finish something you start so when it comes time to sell the work it's a lot of mixed emotions. It's incredibly euphoric to see someone purchase a painting, and it's how I make my living so there's always relief as well -- but also loss.
EP--I remember attending one of your shows and I had centered my entire outfit around a single, peach colored thread in my plaid pants. You were the only one who noticed. How does being a visual person affect you and your image?
VG--I think part of the artist's job is having acute observation skills or maybe as an artist it's built in. You're documenting the time you are living even if it's not a conscious effort. Whatever you create will some way be reflective of you and your surroundings. I'm detail oriented and nuance is the way I see the world. Many of my paintings reflect situations that don't often exist in everyday life, like a woman draped in an octopus or a nautilus shell floating under a woman's chin but I strive to make it as real as possible to bring you into my world. So deciphering details and translating them in paint allows me to bring the uncanny to life.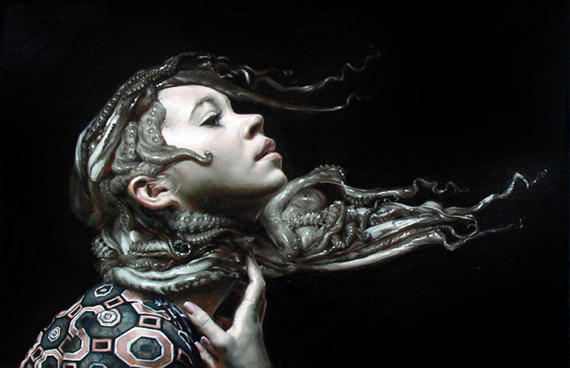 "Billow," oil on board, 8"X12," 2014
EP--For being a married, family dude from the Southern Jersey; you have a strong sense of style. What are you telling the world in your fashion?
VG--Thanks, but most days I'm in a tee shirt and shorts covered in dried crusty oil paint. On the rare occasion, I do tend to bon vivant it up. I love fashion. I love shopping for my wife -- I think she's at the point where she actually doesn't want me coming home with any more shoes for her. I'm very inspired by fashion and it is always looming in my work.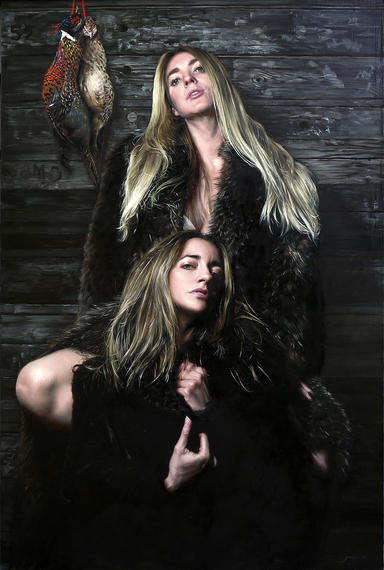 Victor's wife Alicia in "The Pheasant Hunt," oil on board, 20"X36," 2015
EP--I am obviously a fan and during my break up one of the first things I said was "I am taking the Grasso." How does it make you feel to know your work holds value to others?
VG--It's incredible that so many people take value and pride in what I create as well as an honor and extremely humbling because I believe in what I create and the value in it. How does it make you feel to value my work?
EP--Husband and father... what is it like to be an unconventional family man?
VG--It's unconventional for sure. My studio is just outside my house and I can spend time with my family whenever I want -- but my work is so consuming that I'm not always in family mode. We live two blocks from the beach and I make an effort to get the kids down there and out on the water as much as possible in the summer. I love to cook and do almost every night and we entertain quite a bit and include the kids, though they usually pass on the clams baked with slab bacon, vermouth and gruyere and bourbon seared scallops for hot dogs and chicken fingers.
EP--What advice do you have to younger artists on following their passion to create?
VG--Most definitely create the art you want to make and not the art you think you should make. It doesn't matter what other people think will sell or other peoples' personal taste. That holds no weight over what's in your head, so fuck em' and paint what you want. Just practice at it constantly and get really, really, good.

EP--You have done museum shows, short films, magazine covers, commissions...what is next?
VG--I'm constantly trying to learn and get better at my craft. Currently I have a solo exhibition up which closes September 7th at SOMA Gallery in Cape May, NJ. I'm also working on two group shows, one for Parlor Gallery in Asbury Park NJ on Aug 29th and the second in Tucson, AZ at Baker Hesseldenz Gallery OCT 3. I'll be putting together a new body of work that I'm very excited about as well. There are some goals I'm working towards as well, I've never had a solo show in New York, that's a big one, and I'd like to show in Europe. I've also written a short film that should be getting under way in the fall and I'd love to go back to Scotland with friends for a surf trip in October and maybe head to Mexico in the winter.
EP--Last question; tell me a little about the dark side of being a creative and what drives you to push beyond those moments to continue?
VG--Most of the time being an artist is being alone which is an isolating and lonely existence. The worst is the self doubt and lack of confidence. Although there is nothing to prove to anyone but myself, I'm my worst critic. The desire to create is the strongest feeling I know. To make something from nothing, conceive, work through, make, and finish a painting is what always drags me out of the bleak void. It's nicer on the other side.
FIND OUT MORE ABOUT VICTOR AT VICTORGRASSO.COM
INSTAGRAM @VICTORGRASSO FB-GRASSO TWITTER-VICTORGRASSO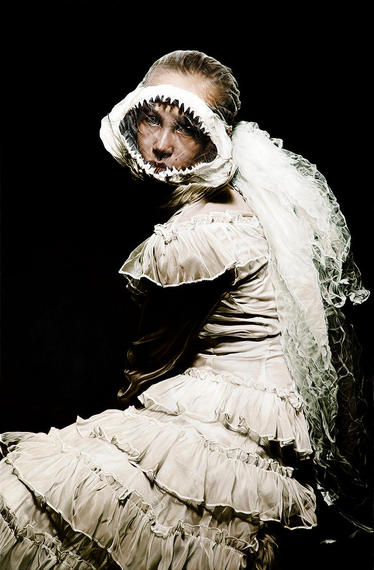 "Siren," oil on linen, 40"X60," 2013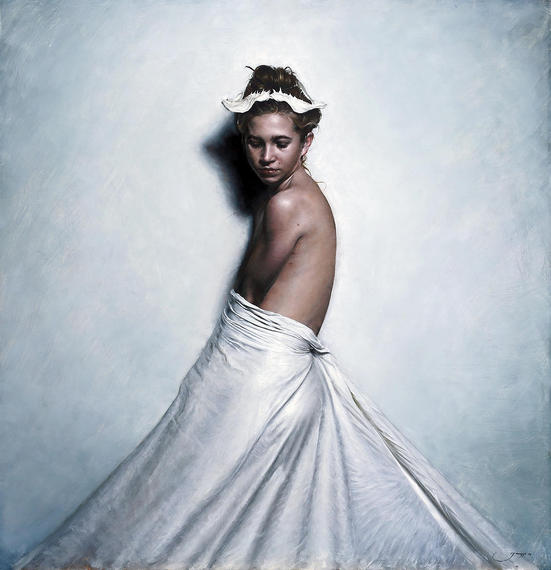 "Neversink," oil on board, 23"X24," 2014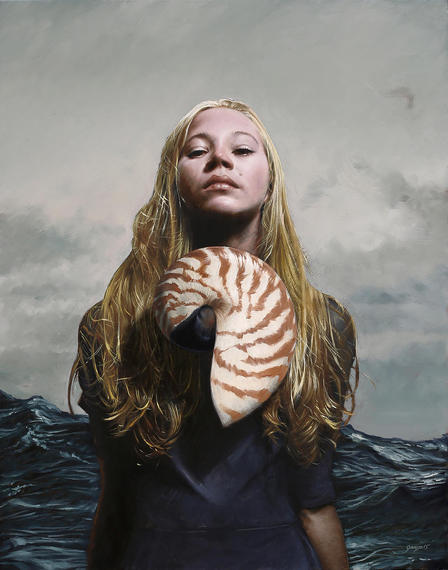 "Levitation," oil on board, 15.5"X20," 2015